The New York Immigration Coalition is an umbrella policy & advocacy organization that represents over 200 immigrant and refugee rights groups throughout New York. Serving one of the largest and most diverse newcomer populations in the United States, the NYIC membership base is a multi-racial, multi-sector group of grassroots and nonprofit community organizations, religious and academic institutions, labor unions, as well as legal and socioeconomic justice organizations.
I recently sat down with Seongeun Chun, the Director of Health Policy with NYIC to chat about the Coalition's most recent wins in light of the winding down public health emergencies experienced across the country.
Megan, Rx: As an umbrella policy and advocacy organization, providing support to over 200+ member groups and partners in New York, can you share with some of the challenges community-based organization (CBOs) are facing in the state when it comes to immigrant health advocacy and organizing? What does the ecosystem look like these days?
Seongeun, NYIC: We are the largest state-wide organization that is focused on immigrant and refugee rights. Some of the biggest challenges we're seeing is the lack of access to care and social services, at the federal and state level, because many of our immigrant community members are undocumented. So, that means our CBOs, our member organizations, are the ones who fill that immediate gap. They really understand the needs on the ground – and that was the impetus for our campaigns, such as Coverage4All.
I also think while some of us, including myself, have been privileged to work from home, many of our member organizations have been stretched thin because they had to provide the direct services and are the trusted resource in their communities. Many folks are feeling burnt out and at capacity as we are in year three of this pandemic.
We're also still feeling the chilling effects of public charge from the Trump administration, and while we're in a much friendlier administration with Biden, it had a chilling effect – folks are reluctant to seek public benefits that are rightfully theirs. That was one of the challenges we saw around vaccines. And so, our member organizations really played a critical role to bridge that gap – to not only access the resources available to them but also provide people with reliable and trusted information. Because in critical times like this, our immigrant communities are going to go to folks that they trust, and the people they trust are our member organizations.
Megan, Rx: What is one of your biggest lessons or takeaways from the Coverage4All campaign?
Seongeun, NYIC: I think I'm still processing seven intense months of our budget session which includes base-building… but it's not only about grassroots building, it's elevating the visibility of our campaign at the state level so that our state leadership understands what is at stake and what is an imperative need – which is access to health coverage for all New Yorkers regardless of immigration status. Coverage4All was the New York Immigration Coalition's number one budget priority which was determined by our members during our annual roundtable process. With the help of our members, we were able to raise the visibility of our Coverage4All campaign in ways that we have not seen in the past. I think the takeaway from this is the importance of public pressure. The importance of the pressure that community members put upon our state leadership to say – "this is a mandate from us. All New Yorkers need access to coverage regardless of their status. That is a human right. It's a right that should be given to all of us". The pressure that our member organizations were continually able to sustain on our state leadership to say "we're not going to walk away unless undocumented folks are given access to health coverage" was important. Community organizing, grassroots organizing, and that pressure that we were able to maintain for seven months – we really couldn't have done it without our members.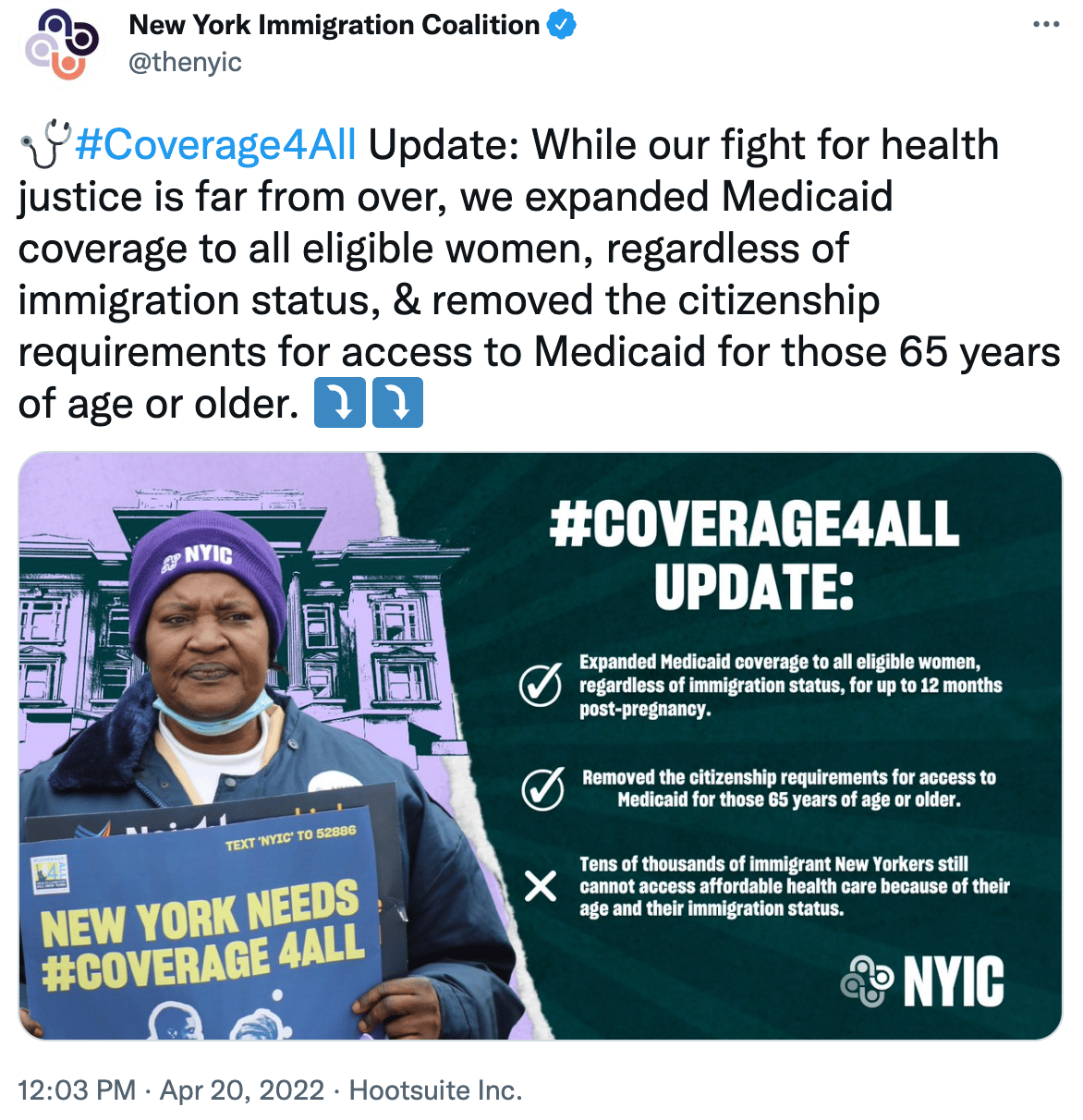 Megan, Rx: The pandemic furthered inequities and highlighted a lot of systemic failures, but it also presented opportunities to expand immediate healthcare access with state and federal funding opportunities for things like NYC Care. Can you tell me more about the opportunity the state has to expand access to healthcare as the pandemic continues but also beyond for New Yorkers? What are some of the challenges you still face in that regard as we move forward?
Seongeun, NYIC: We considered the expansion of Medicaid coverage for post-partum mothers and newborns from six weeks to a full year, and expansion for Medicaid for undocumented seniors, to be a huge win and step forward. But, that is only a step forward. We have the rest of the population of undocumented folks who still don't have access to health coverage, so we still have a lot of work to do. In NYC, there's more access to care through programs like NYC Care but it's not health insurance, it's a healthcare access program. States like California have been really great role models in terms of what sustained pressure can do to expand health coverage for undocumented folks, starting with young adults, then 50+, and now, next year, it will be extended to all undocumented immigrants. In New York, we still have a lot of work to do because there are undocumented folks who are 19-65 years old who still don't have access to health coverage. It's really exciting that this step forward will be the impetus to help us continue to expand coverage for all immigrants.
Megan, Rx: What is your guiding north star?
Seongeun, NYIC: Our member organizations are our champions; they are our north star. They are the ones that are fighting for our communities on the ground to really understand the needs. They guide us and determine where we should be focusing our energy. That is the reason why Coverage4All was successful– it garnered a lot of organizational support because it was our members who told us that this is what they wanted us to focus on for this year, which was really exciting.
For me, personally, the reason why I do this work is because I'm also an immigrant. I came to the states with my parents and saw them struggle trying to navigate our complex healthcare system as newly arrived immigrants. I think those are the things that help or guide me when things are stressful or tense. It's a reminder of why I'm doing the work that I'm doing. The importance of fighting until the very end. I think many times, during the height of the campaign there is so much strategizing around keeping up the fight and I think at the end of the day it really is sort of the human component to all of it, to all of this. Keeping in mind all the individuals – not only the individual stories of our immigrant folks who have lost family members during COVID because they didn't have access to care – but I think my personal star is remembering what it was like for my parents and how difficult it was for them to navigate the health care system. I think those two things – keeping my eyes on what it is that our community members asked us to do, and, really being the vehicle, seeing myself more as the vehicle to listen to that mandate as opposed to me leading the charge. I hope that the win we had this year will sustain us so that all immigrants, regardless of status, can have access to health coverage soon. I really hope that the north star will continue to carry not just myself but all of us forward, because there is still much that we need to accomplish.
Megan, Rx: I'd love to hear your perspective or thoughts on what other funders should know about supporting the work NYIC and other similar groups do. What would you like to tell a funder? What would you like those relationships to look like?
Seongeun, NYIC: I think the support we received from Rx Foundation was tremendous. Rx Foundation was the first foundation where we were presented with the opportunity to provide a request for technical support. It was important and helpful to get an outside perspective on how we think about certain policy issues from coaches because when we're in the thick of it, it's hard to think about new or different ways to negotiate or organize at the state level. To hear from other experts who have done this around the country and how they conceptualize other electeds and unlikely partners, or just new relationships that they were able to build to push forward a campaign, that was helpful.
In philanthropy, I would love to see more representation from communities of color to have a voice in the way Foundations and other funders fund, to be decision-makers. People of color, who have been on my side of the fight, understand what types of funding and deliverables are going to make the impact. There really does need to be a long-term investment. For example, Coverage4All is a campaign that has been in existence for seven years. It just takes so much time to build political power and grassroots movements. Access to health coverage – things like that take time. It takes a long period of time. And then to pull in folks who have worked in the community to identify the right groups and the type of funding that is going to move the needle, it takes a tremendous effort.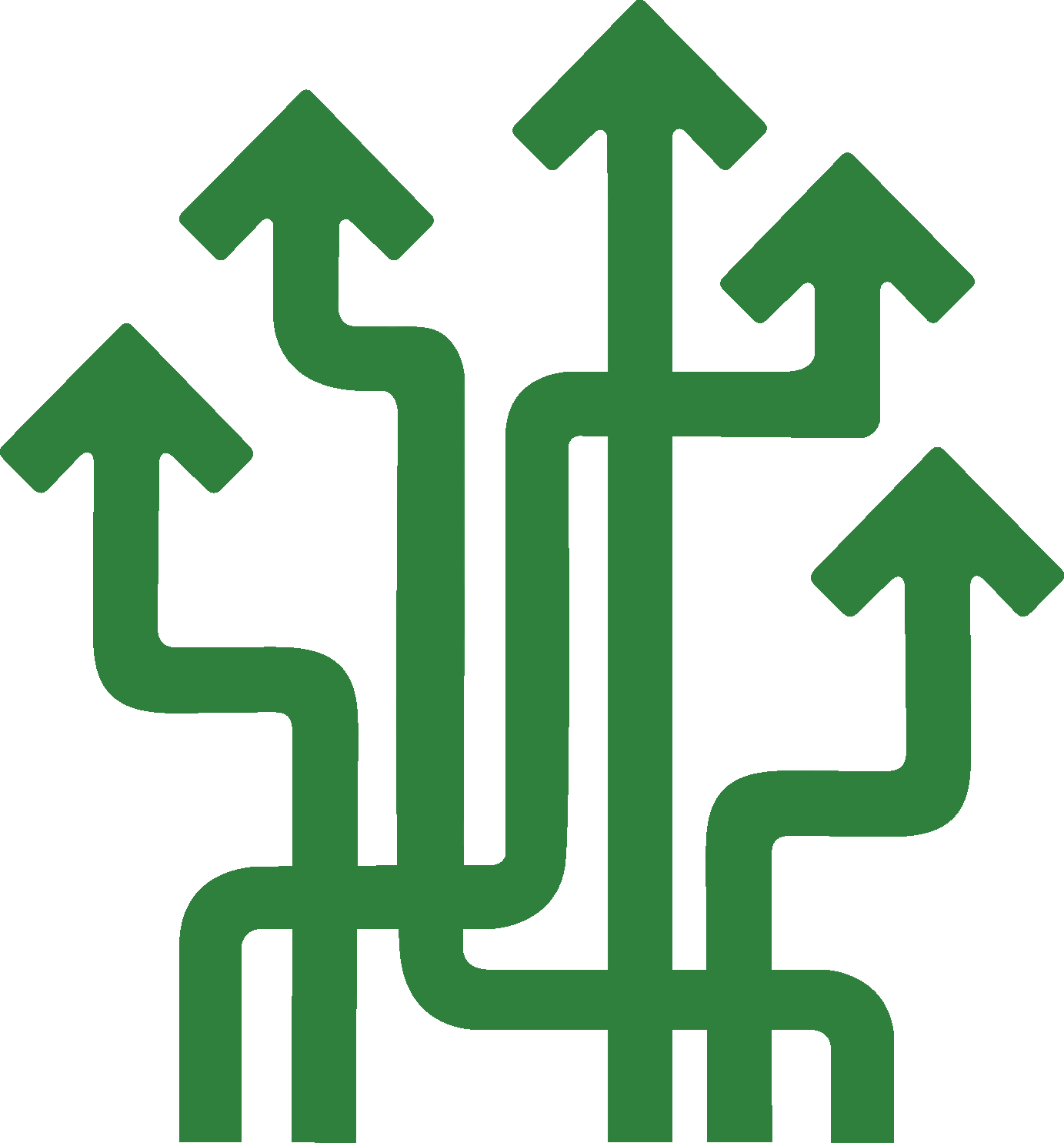 Follow-us on social media for the most up-to-date news, resources, and events from the Rx Foundation and its partners.