Original publication date: May 2023
This month, we are honored to spotlight Down Home North Carolina, one of our sub-grant partners from our Building Capacity for Health Advocacy network. Last March, North Carolina passed Medicaid expansion. After years of tireless advocacy and organizing efforts, Todd Zimmer (Co-Director) and Gwen Frisbie-Fulton (Director of Communications) answer the question – what can others in states that have yet to expand Medicaid learn from your experience and what it takes to pass expansion in the South? – for this month's feature.
Three Things
Making Disability a Priority in Health Equity with Dr. Mai Pham
Watch: A webinar from Dr. Mai Pham of the Institute for Exceptional Care
The Poverty and Bad Health Cycle
Listen: Dr. Alister Martin joins the Institute for Healthcare Improvement's Turn on the Lights podcast
The End of the Covid Health Emergency Must Not Spell the End of Progress Toward Health Equity
Read: Amy Pisani's piece for The Chronicle of Philanthropy
In March 2023, North Carolina became the 40th state to pass Medicaid expansion.
While the passage of the Affordable Care Act (ACA) expanded Medicaid coverage to adults with incomes up to 138% of the Federal Poverty Level, and offered an enhanced federal matching rate to states for their expansion populations, 13 years later, ten states have still not yet adopted expansion, leaving more than four million Americans without healthcare coverage.
While each state's landscape is undoubtedly unique, there are many shared lessons to be gleaned from North Carolina's recent decision to expand Medicaid, 13 years after the ACA opened the possibility.
Since 2017, Down Home North Carolina has been one of the leading grassroots organizations advocating for Medicaid expansion. With over eight member-run chapters across the state, from the mountains to the coast, their members engaged thousands of North Carolinians through deep listening canvassing efforts.
In conversations with North Carolinians, canvassers heard over and over again that "working families lacked health insurance, were unable to afford a doctor's visit or medication, had insurmountable medical debt, and were frustrated that the government has continued to fail to help them".
Organizing everyday small town and rural residents, and healthcare activists, Down Home members marched, rallied, protested, lobbied and organized for expansion – publishing opinion pieces, writing letters to the editor, speaking at conferences, engaging people in advocacy trainings and educational programs, and leading lobby visits and letter writing campaigns in addition to their deep canvassing work.
Years and years of collective organizing efforts paid off last March, when several Down Home members were at the Governor's mansion when Medicaid expansion was signed into law. It's estimated that over 600,000 North Carolinians will now have healthcare through Medicaid.
We asked Down Home North Carolina's Todd Zimmer (Co-Director) and Gwen Frisbie-Fulton (Director of Communications): what can others in states that have yet to expand Medicaid learn from your experience and what it takes to pass Medicaid expansion in the South? 
In their piece below, Zimmer and Frisbie-Fulton lay out the dynamic landscape of North Carolina, and share firsthand lessons from building a multiracial coalition across rural and semi-rural settings to organize across the state for Medicaid expansion. As they prepare for the upcoming implementation period, slated to begin June 1st, they explain all that it took to get to this moment and the hopes Down Home North Carolina and its members have for the future.
Passing Medicaid Expansion in North Carolina
By: Gwen Frisbie-Fulton and Todd Zimmer
In late March 2023, after years of organizing and negotiation, North Carolina passed a bipartisan bill to adopt Medicaid expansion. More than nine years after the Supreme Court ruled that states could choose to expand Medicaid, North Carolina became the 40th state to do so.*
"I've waited for Medicaid Expansion for seven and a half years," says Dana Bango from Watauga County– a rural mountainous region of the state. "Other North Carolinians have been waiting for five, ten, or even more years. It's way past time but we finally made it."
Dana, a single mother caring for her elderly parents, didn't have health insurance coverage from her employer when she was diagnosed with cancer. In other states and other places, Dana would have qualified for Medicaid, but not in North Carolina. "I was angry at the thought of leaving my family and this Earth too soon," she says. 
Dana was able to go to a free clinic for much of her care, but also accrued over $30,000 in medical debt. Medicaid expansion couldn't have come a moment too soon for her or the 600,000 other Carolinians who now can access affordable care after years of languishing in the Medicaid coverage gap. 
North Carolina isn't merely the latest domino to fall in a chain of recent Medicaid expansion states, but a blueprint for how to win future expansion. The Washington Post proclaimed "North Carolina offers a recipe for holdout states to expand Medicaid." And local organizers who were involved in the fight to pass Medicaid expansion here agree.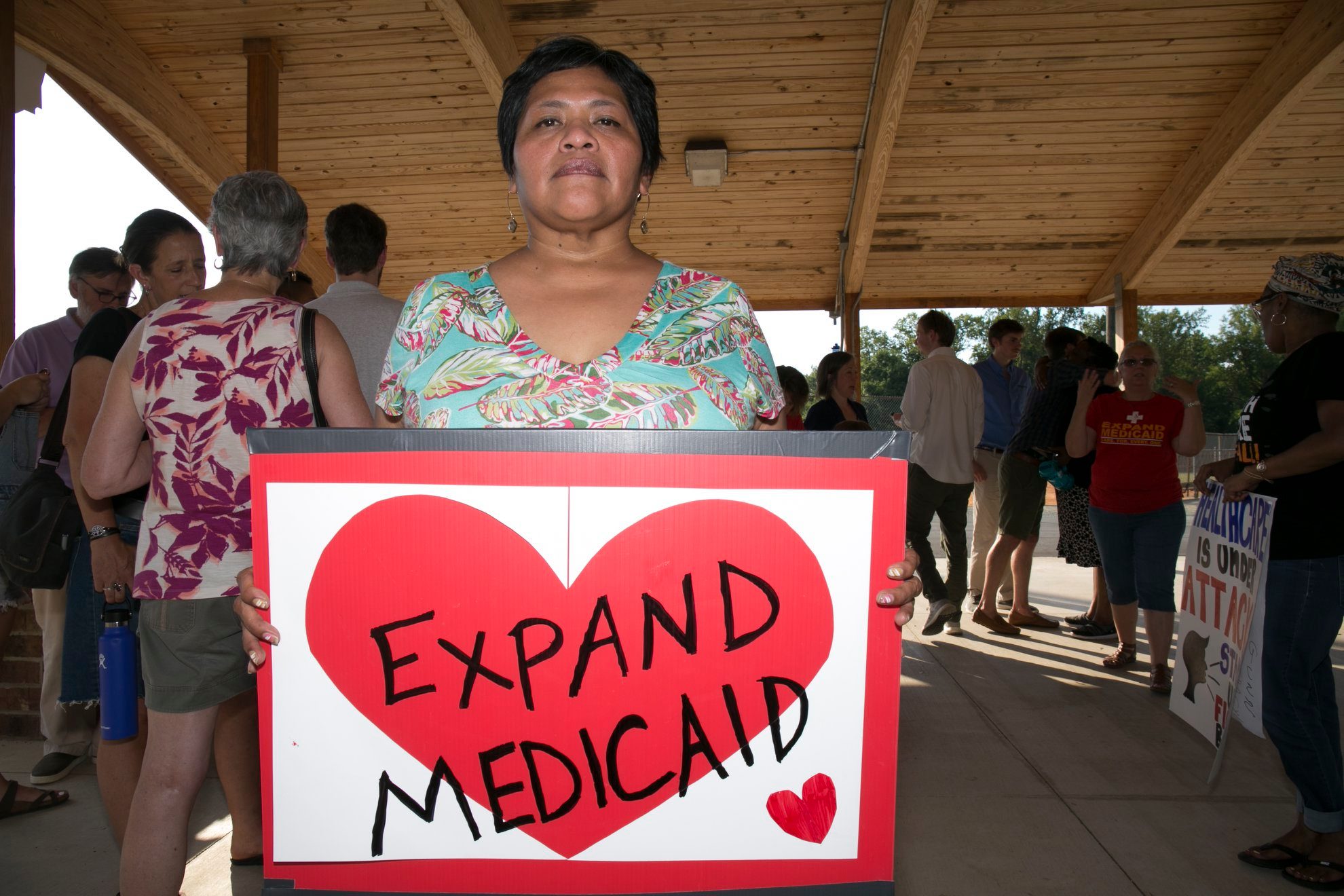 While the preceding seven Medicaid expansion laws were passed directly by voters, North Carolina's expansion bill had to be passed by the state general assembly. 
"Expanding Medicaid requires an act of law and in our state the only entity that can approve a law is the General Assembly," explains Todd Zimmer, co-director and co-founder of Down Home North Carolina. "So we knew we couldn't move this without moving lawmakers in Raleigh." 
In other words, North Carolina's only path to Medicaid expansion ran right through a state government dominated by ardent opponents to the proposal.

Down Home knew that Medicaid expansion was overwhelmingly popular both from statewide polling as well as from the groups own canvassing and door knocking in small towns. "Since we didn't have the luxury of a direct referendum," says Zimmer, "It became something that people were going to have to demand." Down Home North Carolina worked to create the path for people, like Dana Bango, living in the healthcare gap to articulate that demand.

"We set out to make our elected officials understand that Carolinians knew that politicians were the ones blocking it,' says Zimmer. "It wasn't a priority for the general assembly like it was for working people– we had to make them feel it like we were feeling it on the ground."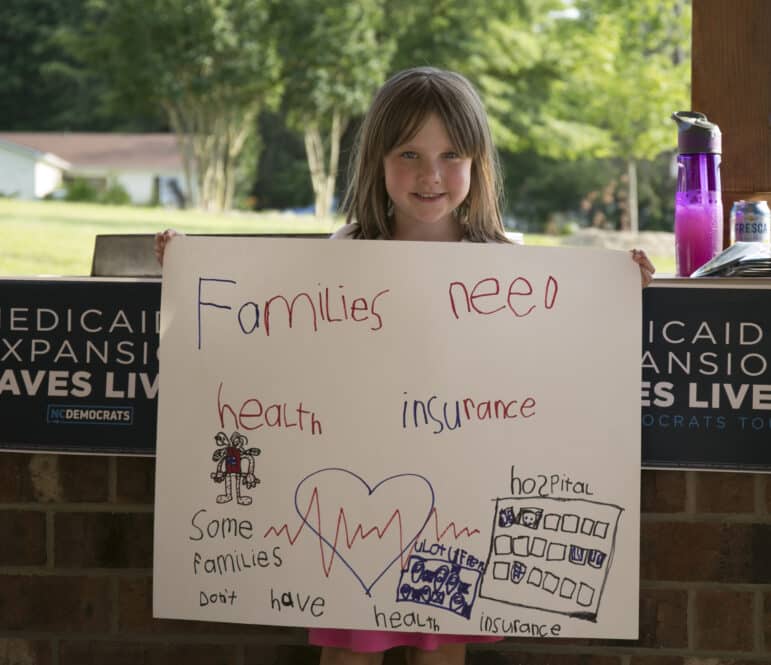 Lessons Learned
Alabama, Florida, Georgia, Kansas, Mississippi, South Carolina, Tennessee, Texas, Wisconsin and Wyoming are the remaining states that haven't expanded Medicaid. What can they learn from North Carolina?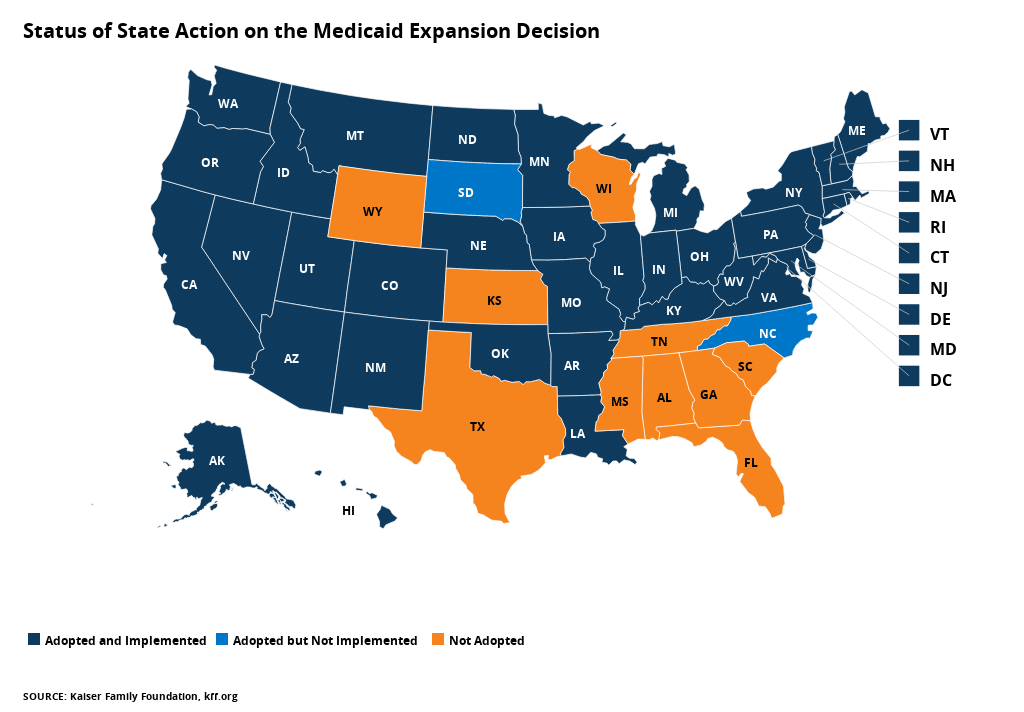 For starters, the win in North Carolina shows that rural counties and constituents matter. In a state where 80 of 100 counties are rural, any major policy objective in North Carolina has to include rural support. 
"Passing policy in NC always has to include significant consensus in rural counties," says Dreama Caldwell, co-director alongside Zimmer at Down Home. "There's no path to change here that doesn't run through a small town."
"Prior to 2017 there was no organized voice for small town and rural people to demand popular and necessary policy," Caldwell explains. "We set out to build that megaphone."
Furthermore, the conversation around policy has to shift from pure ideology to the people and practicality. In North Carolina, the general assembly was stuck in partisan based ideological battles about the role of government and this was blocking Medicaid expansion from moving forward. "Part of organizing in rural North Carolina has to be about building multiracial coalitions of working people," says Caldwell. "You have to have a choir of voices across the difference showing up together to make it feel real and significant and to move past partisan politics."
Finally, Down Home's recipe includes demonstrating the large base of support behind the measure. "You have to make sure that representatives see the massive amount of support from people all over their state in order to make them understand how popular this policy is," Caldwell says. "They have to hear it from everywhere." Down Home's statewide footprint of eight local chapters run by local residents was perfect for this work. Their county-based chapters held local rallies and town halls, and also had residents speak out in local settings– such as county commission meetings– about Medicaid expansion to push the message up through their local government to the state. 
"We spent years bringing this public pressure to bear," reflects Zimmer. "In 2019, we were able to start to make the story more about the impact and less the ideological positions – we were able to lift up the people living in the healthcare gap as the messengers. We shifted the way it was being talked about in the press and made sure that our representatives were hearing directly from their constituents."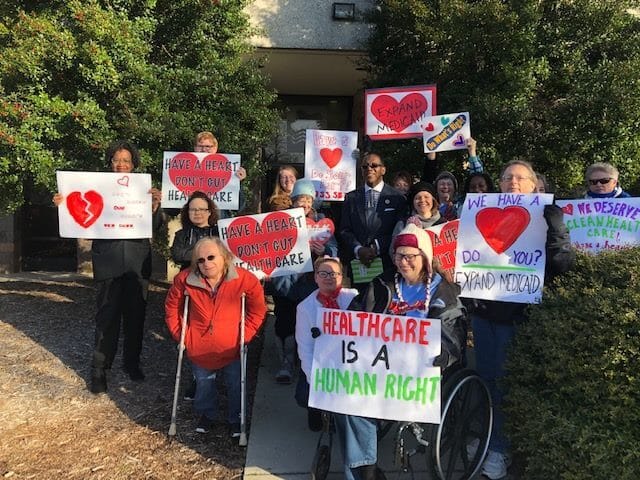 In 2022, Down Home launched a statewide working group of poor and working people who knew the issue best: People impacted by the state's failure to expand Medicaid. This working group showed up in Raleigh, lobbied their representatives and spoke to the press about the need for expansion. People like Dana Bango led this work in their own communities, tirelessly activating their friends and family to make calls, write letters, and engage. She traveled repeatedly to Raleigh to meet with her representatives.  It was this working group that finally brought Medicaid expansion over the finish line– and the members of this working group were in the gallery of the legislature when the final vote passed. 
The Human Cost of Non-Expansion
By the time Medicaid Expansion was signed into law in North Carolina a few short months ago, it had bipartisan support. Todd Zimmer was at the signing ceremony, alongside the impacted people like Dana Bango who had fought so hard for so long. One person was not there, however.  Zimmer held a photo of Lyn Carver, an Appalachian woman who started the fight for Medicaid Expansion with Down Home but did not survive to see its passage. 
"Lyn Carver was a beloved Down Home member and a tireless advocate for Medicaid expansion. She was also a Post Office mail carrier, and fell into the Medicaid gap. Had she been able to access the prescription heart medicine she needed, she would have lived to see the fruition of her efforts," explains Zimmer. "Her fight helped to win care for hundreds of thousands of people, and no one would have been happier to see Medicaid expansion passed. We miss Lyn terribly, and we honor her commitment as we mourn the thousands of Carolinians we needlessly lost due to years of callous government inaction."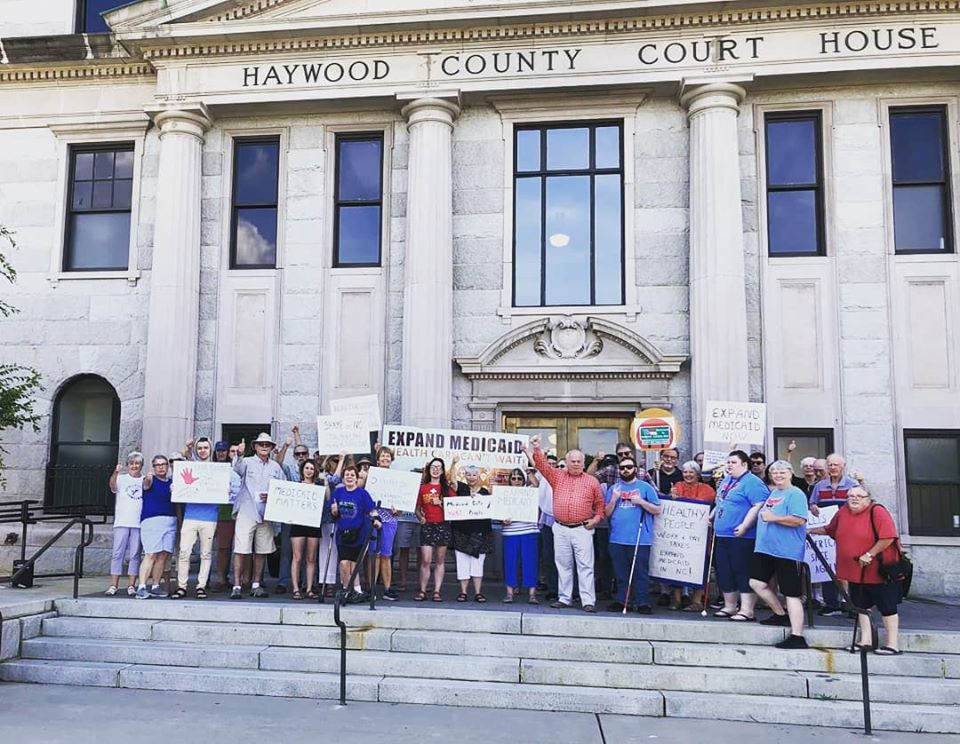 Hopes for the Future
The passage of Medicaid Expansion allows, however, Down Home and the thousands of everyday North Carolinians who fought for it to now move forward. Not only will 600,000 residents gain coverage, but they can now focus on new frontiers in healthcare justice. "We will now turn to the work of helping to enroll our neighbors, but while we do that we will also make sure they are registered to vote," explains Caldwell of Down Home's plan moving forward. 
The organization is aware that Medicaid expansion was an important first step to achieve for the state, but still too many working class families lack adequate care or face high premiums and medical debt. Enrolling families will help people access care, but it is also an opportunity to help people closest to the center of the fight organize together for future wins. 
*North Carolina's Medicaid expansion is contingent on the approval of the 2023-2024 biennial budget, which is expected to pass in June.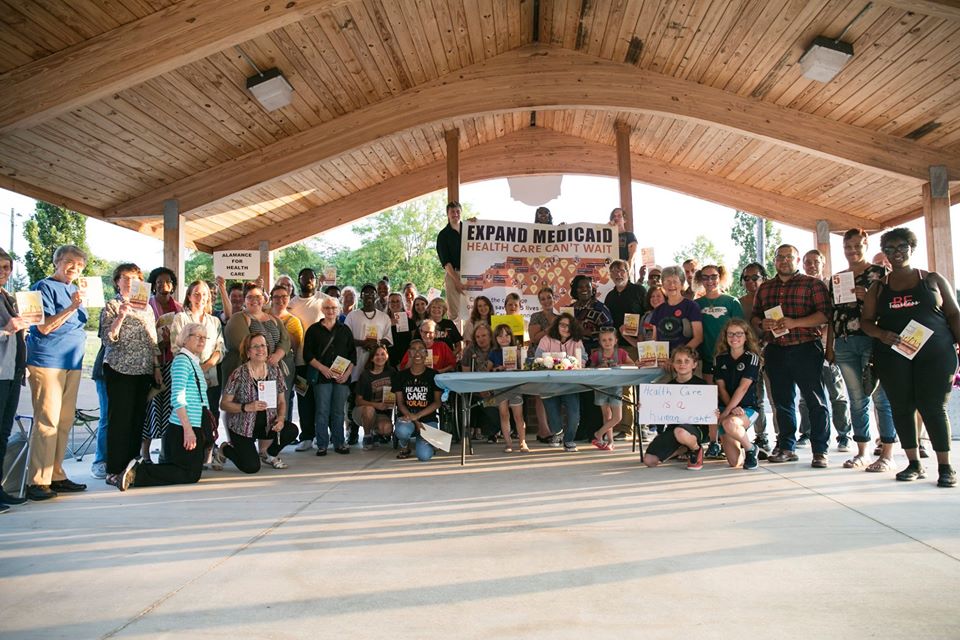 "I've been waiting for this day for over seven years"
"I've waited for Medicaid Expansion for seven and a half years. Other North Carolinians have been waiting for five, 10, or even more years. It's way past time but we finally made it. Thank you to everybody who's been working this whole time. Special thanks to Christine Ashley from Down Home–our guide through all this. I feel like I have been late to the party; it was only seven and a half years for me without health insurance and I was lucky until six and a half years in.
I was a working single parent who also cared for my elderly parents, both recent cancer survivors and one with advancing dementia. I fully realized during this situation that my life really has value–to others and to myself. It sometimes takes near death experiences to truly value life. I was angry at the thought of leaving my family and this Earth too soon.
Luckily, I found down home and through Down Home I found my voice.
Luckily, I'm still here to fight."
Non-Rx Funding Opportunities
Non-Rx Funding Opportunity
CareQuest Institute for Oral Health
CareQuest Institute for Oral Health (CareQuest Institute), a leading national nonprofit focused on creating a more accessible, equitable, and integrated oral health system, is excited to announce the release of a Community and Care Transformation Initiative Request for Proposals (RFP). This RFP is seeking to fund projects and partners that carry forward care transformation concepts and ensure authentic and deep community engagement.
 
The RFP is due on June 30, 2023.
 
Through this RFP, CareQuest Institute will fund 10 projects at $125,000 each for creative, innovative, community-driven projects that will improve care for underserved populations. Applicants will likely be community organizations looking to expand how oral health care is delivered or safety net clinical facilities looking to grow their community engagement.
Non-Rx Funding Opportunity
The Blue Cross Blue Shield of Massachusetts Foundation
The Blue Cross Blue Shield of Massachusetts Foundation is pleased to announce a call for proposals for its Special Initiatives grant program.

The Special Initiatives grant program provides organizations with a one-time grant of up to $50,000 to pilot or launch a new project over a one-year period. Special Initiatives grants are intended to fund projects which empower communities to advance health equity. Projects should positively impact the health or health care related needs of those Massachusetts residents who have been economically, socially, culturally, or racially marginalized. 

If successful, it is hoped that these projects can be sustained, scaled, and potentially replicated.

Special Initiatives grant proposals must align with one or more of the Foundation's three focus areas: access to health coverage and care, access to behavioral health services, and elimination of structural racism and racial inequities in health. Projects must serve the Foundation's populations of focus: Massachusetts residents who are economically, racially, culturally, or socially marginalized.

Proposals are due September 11, 2023.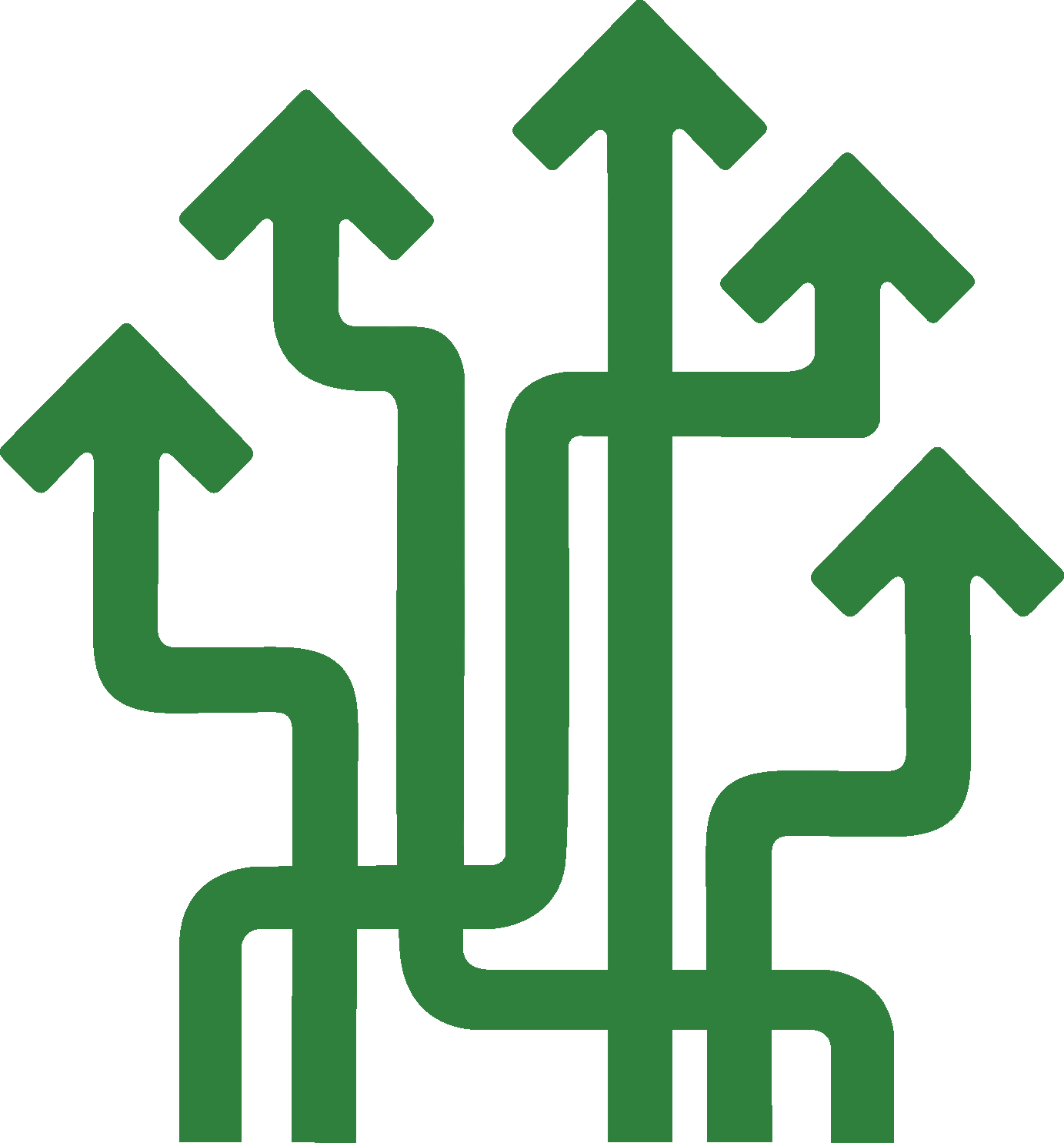 Follow-us on social media for the most up-to-date news, resources, and events from the Rx Foundation and its partners.